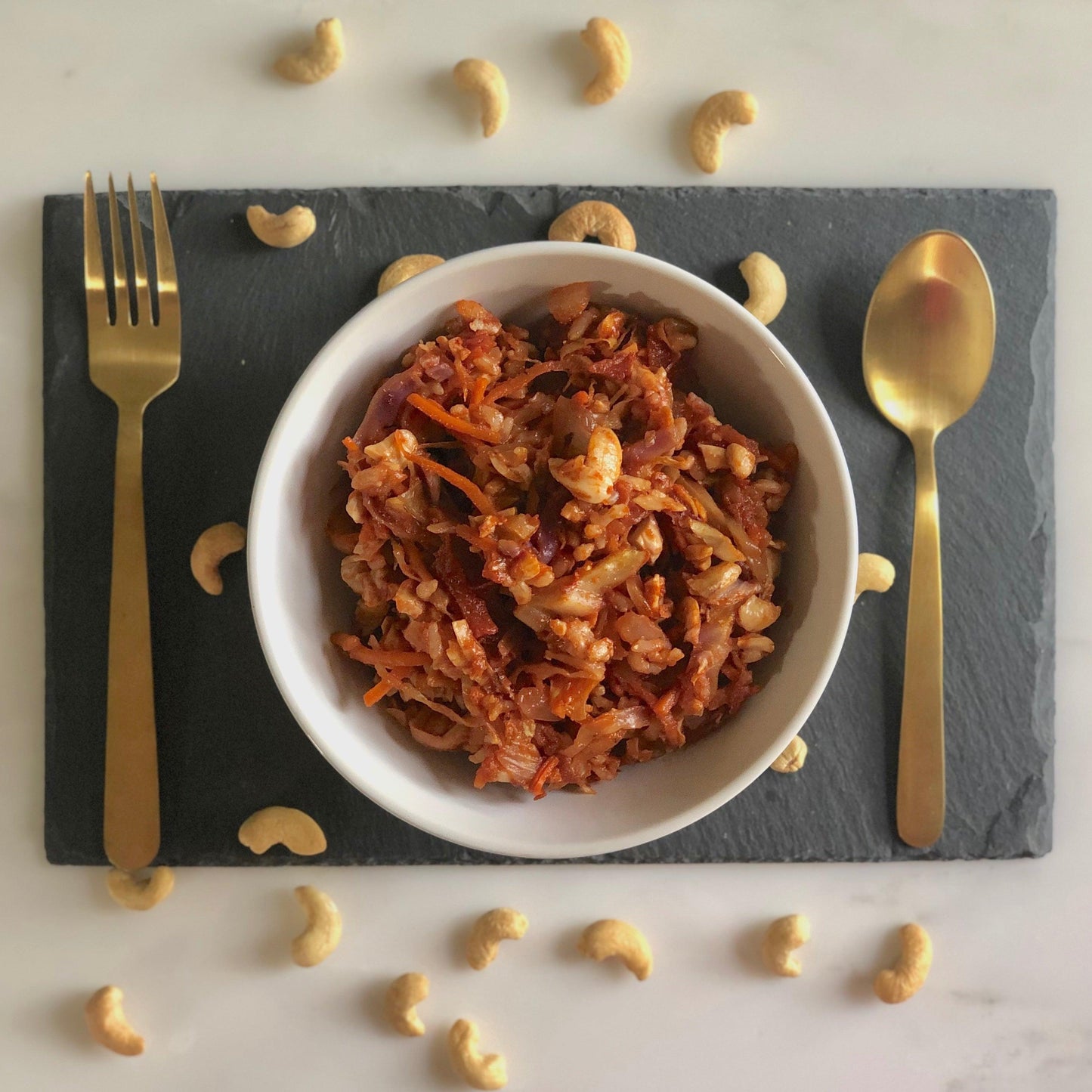 We absolutely love new ways of making traditional, hearty dishes healthier plant-based ones, and are very proud of this swap! Instead of ground beef and hours of preparation, we've swapped soaked Karma Nuts Raw Jumbo Cashews and a one-pot prep for this cozy casserole. Super easy with tons of leftovers, it's a perfect weekday meal! 
Olive Oil
1 jar Karma Nuts Raw Jumbo Cashews, soaked and chopped
1 large sweet or yellow onion, chopped 
2 garlic cloves, minced 
1 large carrot, shredded 
1 large head of cabbage, shredded (or you can buy the prepped bags of cabbage and carrots - saves time!)
1/2 tsp dried thyme
1 1/2 tsp paprika
1/4 tsp cinnamon
1 tsp crushed red pepper (optional)
28 oz can diced tomatoes
15 oz can tomato sauce 
1/4 cup vegetable broth or water 
2 cups cooked brown rice
salt & pepper to taste 
Directions:
Preheat oven to 350 F.
Add 1-2 tbsp oil to a large pot over medium heat.
Toss in chopped onion and garlic, saute until translucent.
Add thyme, paprika, red pepper, and cinnamon; stir.
Pour in diced tomatoes, tomato sauce, and broth/water - stir.
Add chopped cashews and mix in completely. 
Bring mixture to a boil.
Add in cabbage and carrot, mixing in well. Salt & pepper to taste.
Cover and cook for around 15 minutes, or until desired consistency.
Add in rice.
Pour mixture into prepped casserole pan.
Bake in oven for 10-15 minutes covered with aluminum foil, then 10-15 uncovered to get all of the flavors baked in.