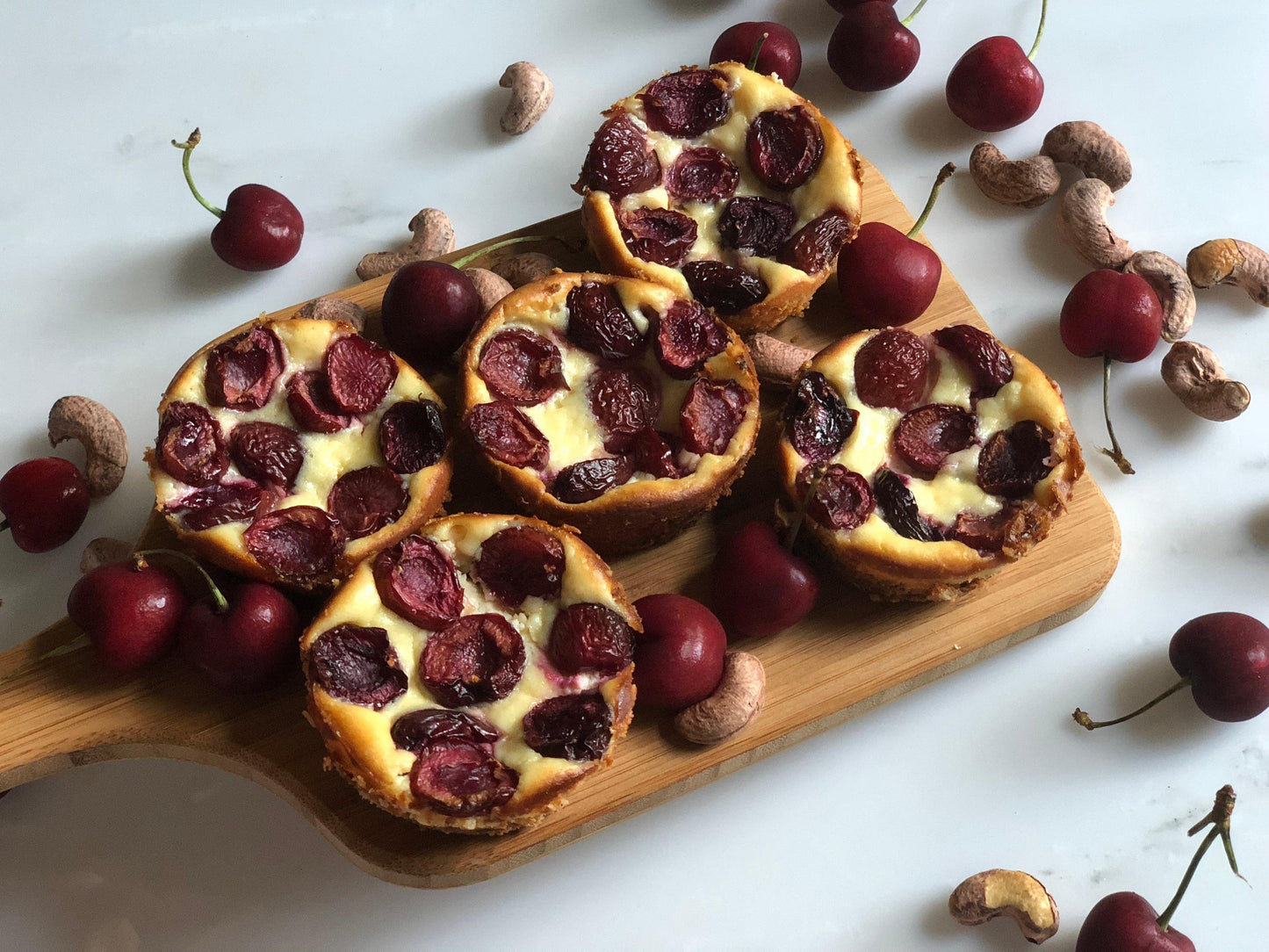 Fresh cherries are back in season and we can't wait to eat them! For this recipe we've mashed up a classic cheesecake and a cherry tart to create this delicious little tartlets that are perfect for any event. We love how the creaminess of the cheesecake pairs with the tart cherries and lightly salted crust. Plus when you use Karma Nuts Cashews and coconut for the crust it becomes a perfect gluten-free recipe that packs an extra nutritional punch! 
Crust
1 cup unsweetened shredded (or dessicated) coconut

1/3 cup Karma Nuts cashews (Raw, Roasted, or Wrapped)

2 tablespoons virgin coconut oil, melted

1 tablespoon pure cane sugar

1 teaspoon vanilla extract
Filling
1/4 cup pure cane sugar

6 oz cream cheese, room temperature

1/2 teaspoon vanilla extract

3 tablespoons milk

1 egg
1 pound fresh cherries, pitted and sliced
Crust
Preheat oven to 350° F.

Place the coconut, cashews, sugar, vanilla extract and coconut oil into a food processor.

Blend until well chopped and mixed

Place the dough into a greased muffin tin, using rounded tablespoons (you can also use liners).

Lightly press fingers down to spread the dough into the bottom of the cups.

Bake for 5-10 minutes or until lightly browned.

Remove and allow to cool.
Filling
In a large bowl, beat cream cheese, vanilla, and 1/4 cup sugar using an electric mixer. 

Gradually add milk and beat until smooth.

Spread mixture in cooled crust, evenly distributing into 12 cups. 

Scatter cherries on top.

Bake tartlets 20-30 minutes or until centers are set.