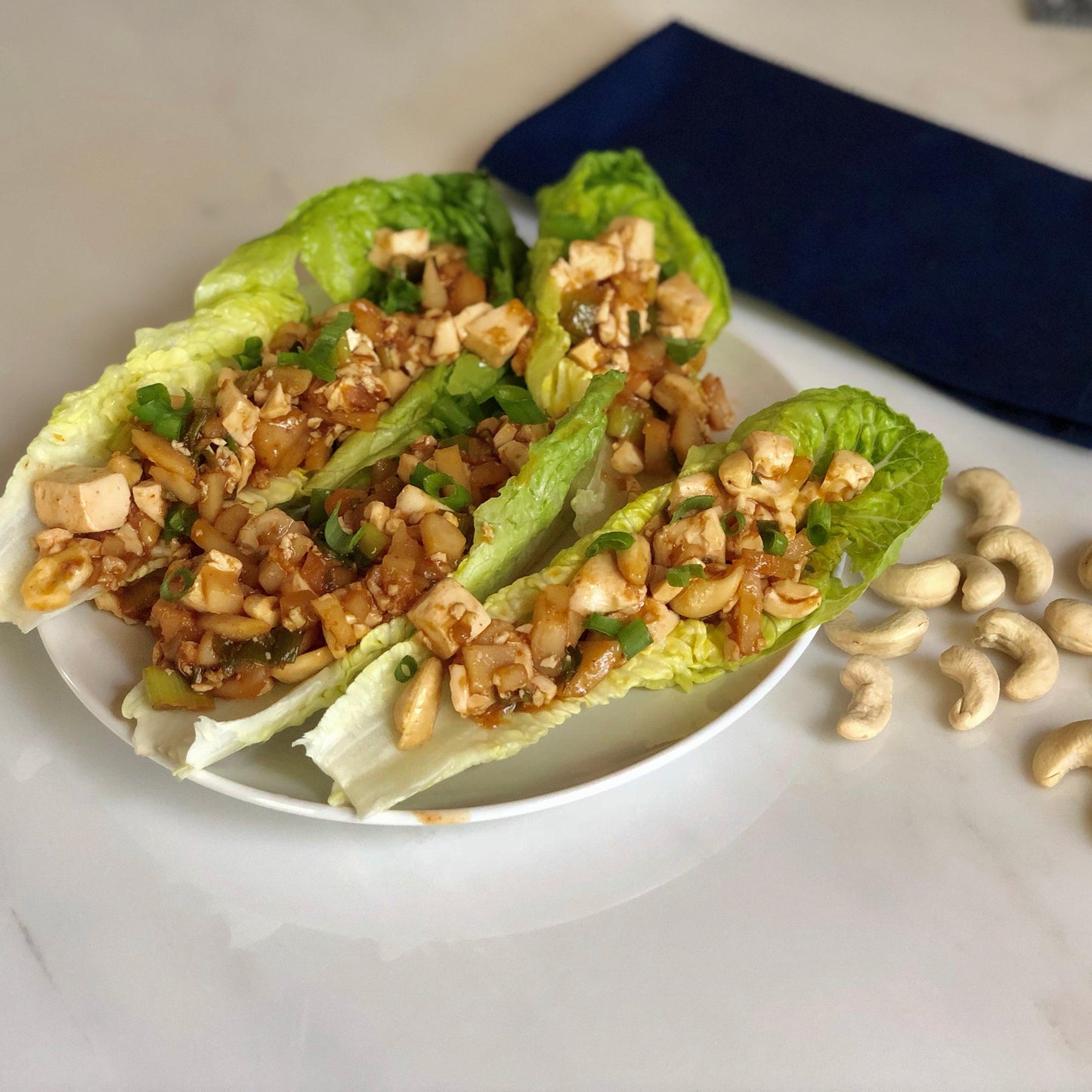 We're always looking for new ways to use tofu around here, and we think that tossing it together with some crunchy Karma Nuts Raw Cashews, garlic, onions and a bunch of pantry staples is the way to go! We love the kick that the Sriracha gives these delicious lettuce cups, and the crunch of cashews and water chestnut gives these a texture we're drooling over. Plus if you leave the
Worcestershire out they're perfect for your vegan friends!
1 package firm tofu

½ cup Karma Nuts Raw Cashews (whole or chopped)

1 8 oz can water chestnuts, chopped

3 cloves minced garlic

½ cup chopped green onions

3 tbsp hoisin sauce

2 tbsp Sriracha sauce

2 tsp soy sauce

2 tsp rice wine vinegar

1 tsp Worcestershire sauce

1 tsp sesame oil

2 tbsp olive oil (or cooking oil of your choice)

Splash of mirin (if desired)

1 lime

Head of lettuce (Romaine, Butter, or Boston)
Directions
Prep tofu by pressing a paper towel on all sides - the more water you remove from your tofu the better it cooks.

Cut tofu into small chunks.

Saute tofu in a pan with 1 tablespoon of olive oil for 5 -10 minutes until lightly seared. Remove from pan and set aside.

Add 1 tablespoon olive oil to the pan, then add water chestnuts, garlic, and most of the green onions (save around ¼ of the green parts for garnish).

Cook for around 5 mins on low to medium heat.

Add the remainder of the ingredients (cashews and liquids) and stir.

Add in the tofu and mix well.

Scoop a few heaping tablespoons into each lettuce leaf and top with green onions and a sprinkle of lime juice.