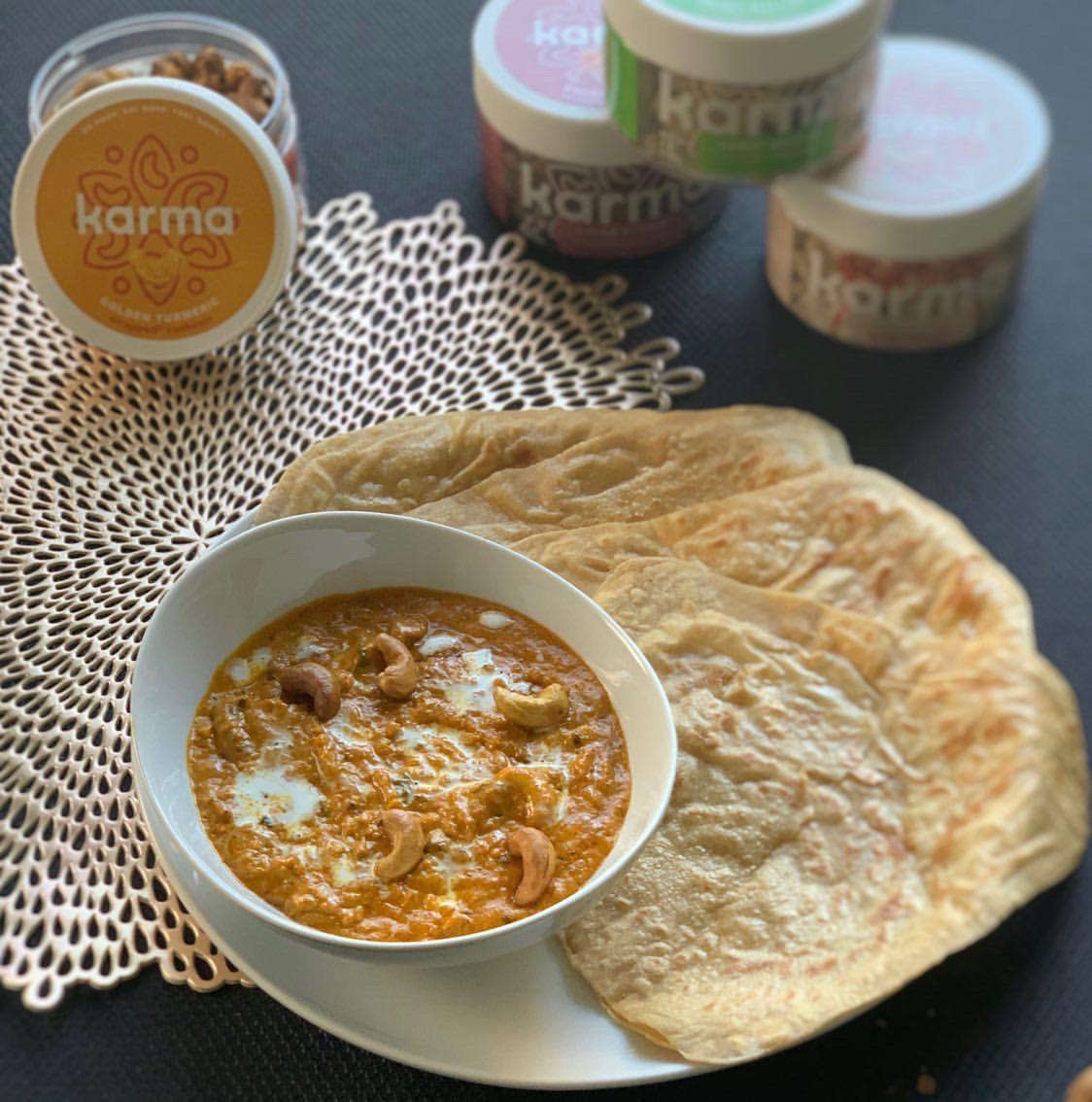 photo credit @goodfood.diaries
Kaju Curry is a deliciously creamy, rich, royal and festive curry preparation. Our friend Ameya from @goodfood.diaries put together this delicious recipe using Karma Nuts Cashews and we can't wait to have it every week! 
    1 cup - Karma Nuts Cashews
    2 - Onions, Medium size, sliced
    Green chillies
    1 Tbsp - Oil
    2 Tbsp - Butter
    1 - bay leaf
    4 - cloves
    2 - cardamom
    1 stick - cinnamon
    1 Tsp - Ginger Garlic paste
    Salt - to taste
    2 - Tomatoes, large, pureed
    1 Tsp - Garam masala powder
    1 Tsp - Kashmiri red chilli powder
    1 Tsp - Turmeric powder
    1 Tsp - Coriander powder
    1 Tbsp - Fenugreek leaves (Kasuri methi)
    1 Cup - Fresh cream
    Coriander leaves, chopped
    Saute onions: Heat 1 Tbsp of oil in a pan, add the onions, salt, and green chillies and saute until onions are more than translucent.
    Prepare the paste: Cool the onions.
    In a blender, add 1/2 cup cashew nuts, the sauteed onions and green chillies, grind to a fine paste.
    Final curry: Heat 2 Tbsp of butter in the same pan in which onions were sauteed. Fry all the whole spices for about 30 seconds, then add the ginger garlic paste and fry well.
    Add the fresh tomato puree, salt and remaining spices.
    Fry until butter separates from the spices.
    Now add the onion and cashew paste, saute for 2 minutes and add 100 ml of water. When it starts simmering, reduce the heat and let the paste thicken.
    Now add the fresh cream and bring to boil.
    Now add the remaining cashew nuts, mix well and turn off the heat.
    Add a Tsp of butter on top, sprinkle some freshly chopped coriander leaves.