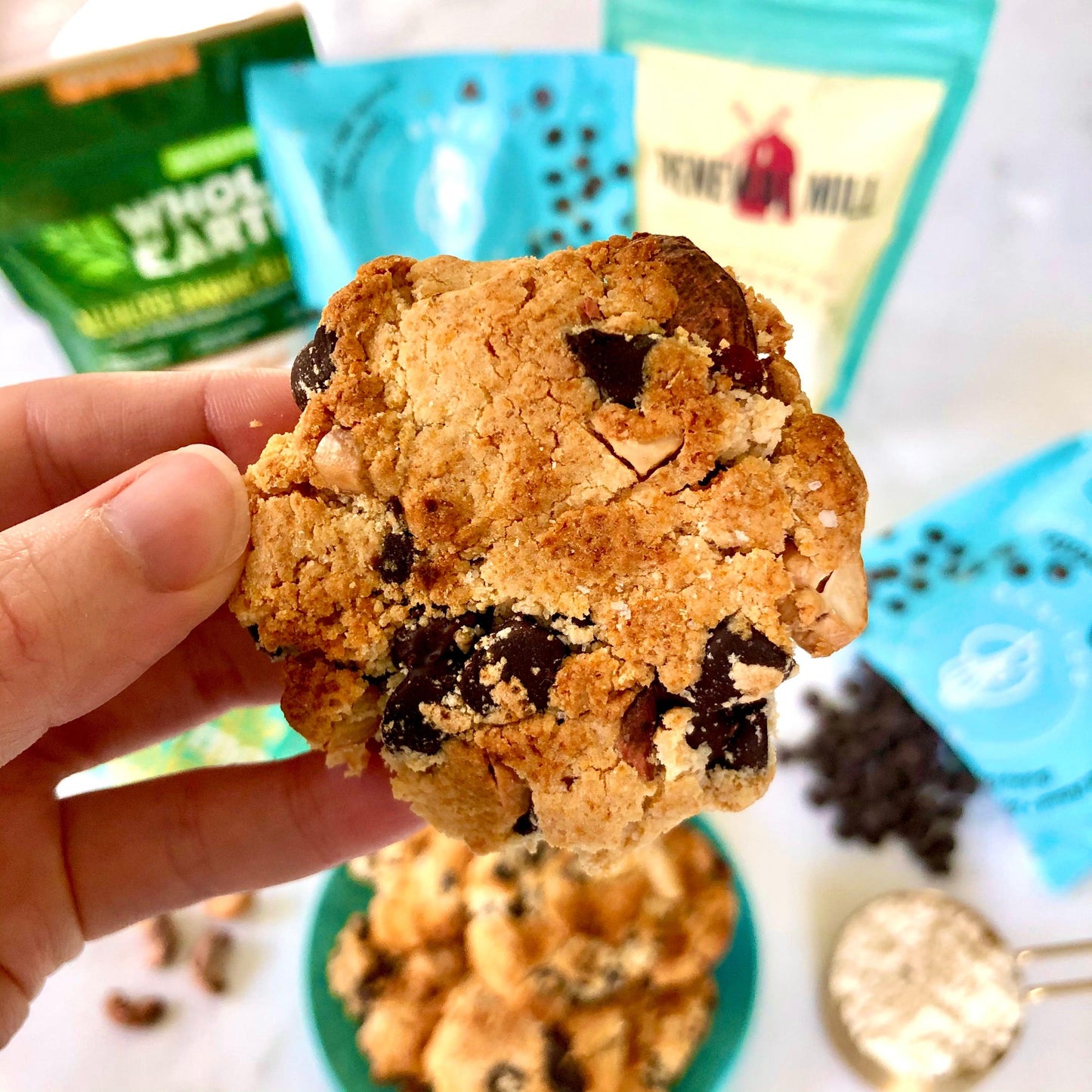 Sometimes it's hard to curb those cookie cravings, especially while trying to stay keto. We've paired up with some great friends to show you how to create a delicious home-baked cookie that is high in fiber and keeps you on track.  Okara flour from Renewal Mills, a new 1-1 baking blend from Whole Earth, Bake Believe's keto friendly chocolate chips, vegan "butter" from Melt Organics and Karma Nuts' own Wrapped® sea salt cashews make baking keto a snap! 
What You'll Need: 
1 1/2 cups Renewal Mills okara flour 
3/4 cup Whole Earth Allulose baking blend
1/4 cup Karma Nuts Sea Salt Wrapped Cashews, chopped
1 stick Melt Organics vegan butter, room temperature
1 cup Bake Believe baking chips 
2 Tb coconut oil, melted
1 tsp baking soda
1 tsp vanilla 
1/2 tsp salt, plus coarse salt for topping 
1-2 Tb water 
Directions
Combine all of the dry ingredients (flour, soda, salt) in a small bowl, set aside 
In a larger mixing bowl, combine room temperate "butter", vanilla, and sugar, mix until well blended 
Add in coconut oil and 1-2 Tb water (you may add more later if needed)
Pour flour mixture into wet mixture, stir until well mixed 
Fold in chocolate chips and chopped cashews
Wrap in parchment paper, cling wrap, or beeswax and refrigerate for at least 1 hour (may be up to 24)
Remove chilled dough, preheat over to 350F
Create 1" dough balls and place 2" apart from one another on baking sheet. Sprinkle with course salt.
Bake for 13-15 minutes or until golden brown. Note that you may need to "squish" them down a little - that is part of the fun! 
Set aside to cool for 5 minutes and enjoy!