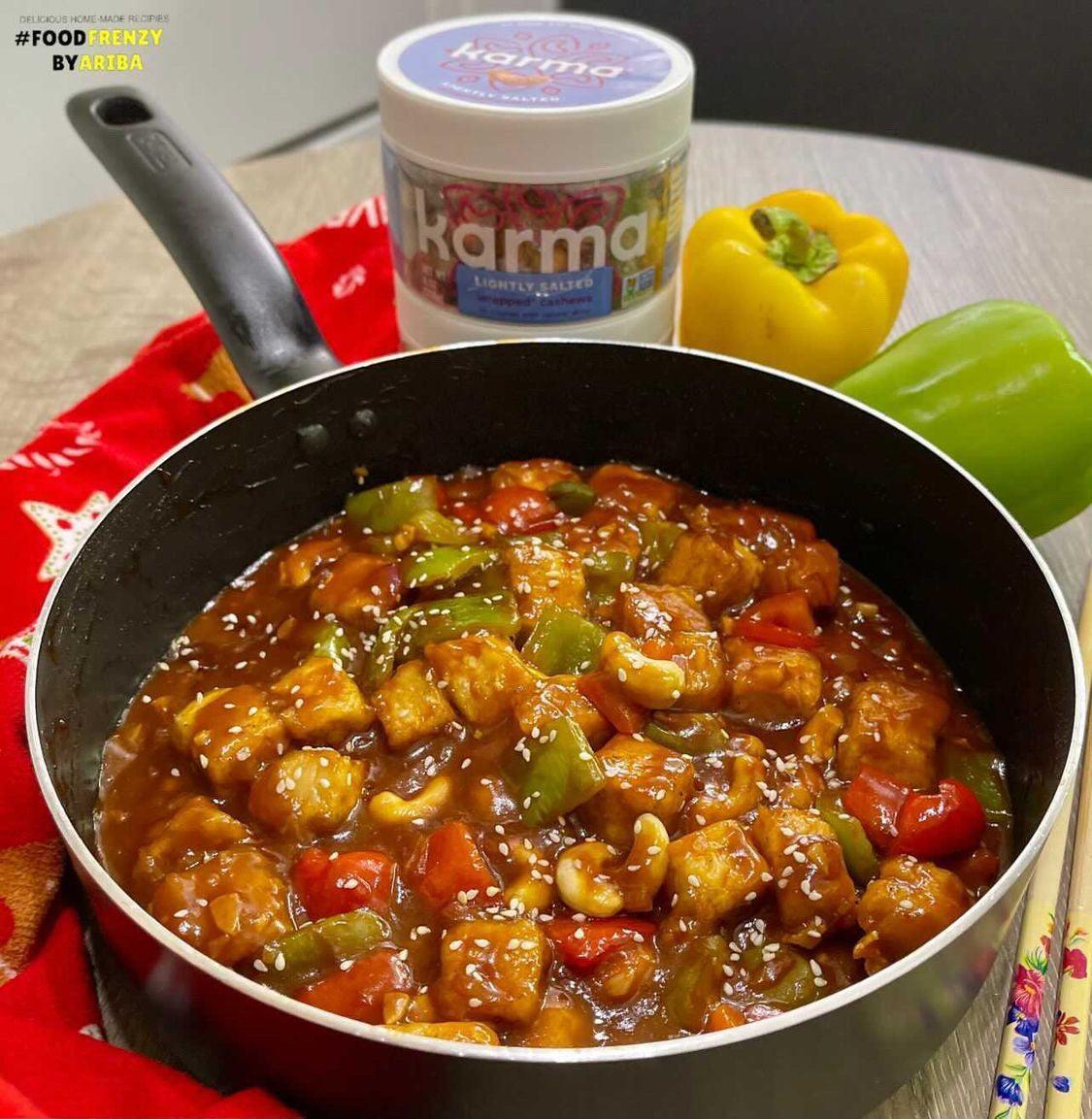 Our friend @foodfrenzybyariba created the most delicious, savory, sweet 'n' salty dish that is perfect for any night! She says "Crispy tofu tossed in a super flavorful sweet sauce with bell peppers and toasted cashews. This Asian style Honey Cashew Tofu will be your new favorite way to eat tofu!"
Check out her delicious recipe below: 
Honey Cashew Tofu
Prep time : 10 minutes 
Cook time : 25 minutes 
Servings: 4
What You'll Need
Sauce
* 1.5 tablespoons soy sauce 
* 1 tablespoon rice vinegar 
* 2 tablespoons honey 
* 2 tablespoons sweet chili sauce 
* 2 tablespoons tomato ketchup 
* 2 teaspoons sriracha 
* 1 teaspoon toasted sesame oil 
* 6 tablespoons water
Honey Cashew Tofu
* 12 oz extra-firm tofu cubed, around 2.5 cups cubed tofu
* 3 tablespoons +2 teaspoons cornstarch divided
* 1/4 teaspoon black pepper
* 1/4+ 1/8 teaspoon salt or to taste
* 2.5 tablespoons + 1 teaspoon oil divided
* 2 medium bell peppers diced (green and red peppers)
* 5-6 large garlic cloves finely chopped
* 1 inch ginger finely chopped
* 5 stalks green onion chopped, white and green parts separated
* 1/4 cup karma lightly salted cashews
* Before you start, press the tofu with a heavy object for 15 to 20 minutes to get rid of excess moisture. Then dry it completely with a paper towel and then cut into cubes. If tofu has moisture in it, it will not crisp up well.

* First make the sauce. In a large bowl, stir together all the ingredients for the sauce - soy sauce, rice vinegar, honey, sweet chili sauce, tomato ketchup, sriracha, toasted sesame oil and 2 tablespoons water. Set aside.

* In a large bowl, toss tofu with 3 tablespoons cornstarch, black pepper and salt until all pieces are coated.

* Heat 2.5 tablespoons of oil to a pan on medium heat. Arrange tofu piece in single layer on the pan. 
* Cook the tofu for 4 to 5 minutes on each side until golden brown. Repeat with remaining tofu. Remove fried tofu on a plate lined with paper towel.

* To the same pan now add the bell peppers, cook them for around 2 minutes, you want them crunchy. Remove on a plate along with tofu on a plate lined with paper towel.

* To the same pan now add the remaining 1 teaspoon oil, add garlic, ginger and white part of green onion. Cook for 1 minute until ginger and garlic start changing color.

* Stir in the prepared sauce along with the remaining 2 tablespoons water and let it come to a boil.

* In a small bowl, mix 2 teaspoons cornstarch with 2 tablespoons water and add the cornstarch slurry to the pan. Make sure to give it a quick stir before adding to the pan as cornstarch settles down at the bottom when left unattended.

* Stir the sauce, it will begin to thick immediately.
* Add in the tofu and peppers along with 1/4 cup cashews. Toss to combine the tofu, cashews and peppers with the sauce. Turn off the heat.

* Garnish with spring onion greens. You may also garnish with sesame seeds.

Serve Honey Cashew Tofu with brown rice or noodles of choice!