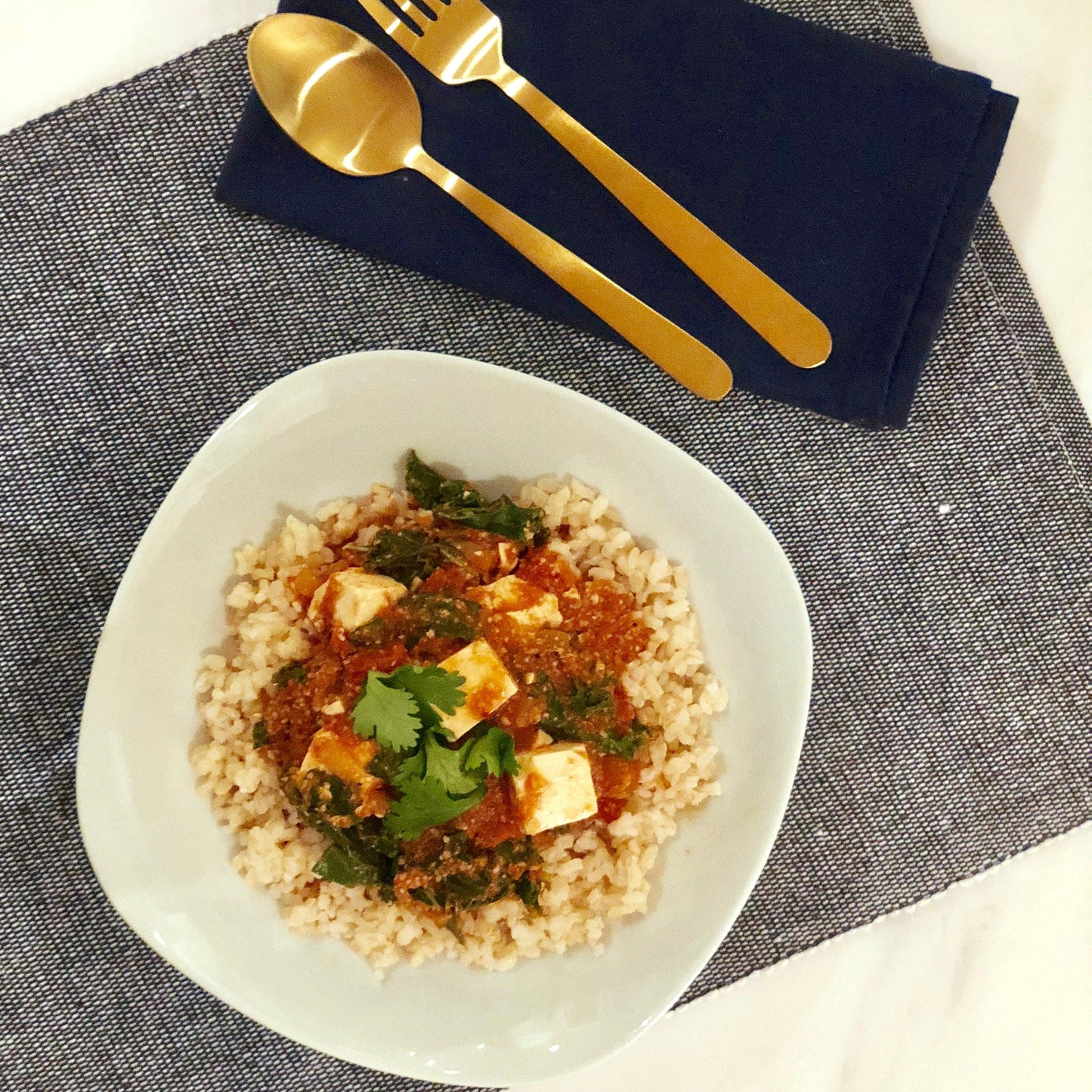 We love a good hearty dish here at Karma and this savory, creamy, delicious stew is the perfect way to curl up on a crisp fall day. We love the healthy plant proteins from our cashews and tofu and, the fiber from leafy kale, and the zestiness you get from sriracha and garam masala. Serve it on a bed of rice, noodles, or on its own. 
Cashew Base
1 can diced tomatoes
1/2 cup Karma Nuts  Raw Jumbo Cashews, soaked overnight
1/2 cup water
Tofu Stew
1 tablespoon olive oil 
1 package silky or firm tofu, diced
1 onion, diced 
3 garlic cloves, minced
1/2 teaspoon grated ginger 
2 tablespoons garam masala
1/2 teaspoon cinnamon 
1/2 teaspoon red pepper flakes
1 tablespoon paprika 
1 cup vegetable broth 
1 can diced tomatoes
4 large leaves curly kale, ripped into small pieces 
1-2 tablespoons sriracha 
salt and pepper to taste 
Directions
Coat the bottom of a large skillet or pot with olive oil and place over medium heat. 

Add onion, and sauté until soft.

Add garlic, ginger, red pepper, cinnamon, paprika and garam masala - cook for one minute.

Add vegetable broth, diced tomatoes, sriracha, and kale to the pan. Bring to a simmer and cook until kale begins to wilt.

At the same time, place cashews, tomatoes and water into a blender. Pulse until smooth.

Add cashew base to the pan and stir to incorporate. Simmer for about 5 minutes, until sauce is thicker. 

Add tofu to the pan. Add salt and pepper to taste.