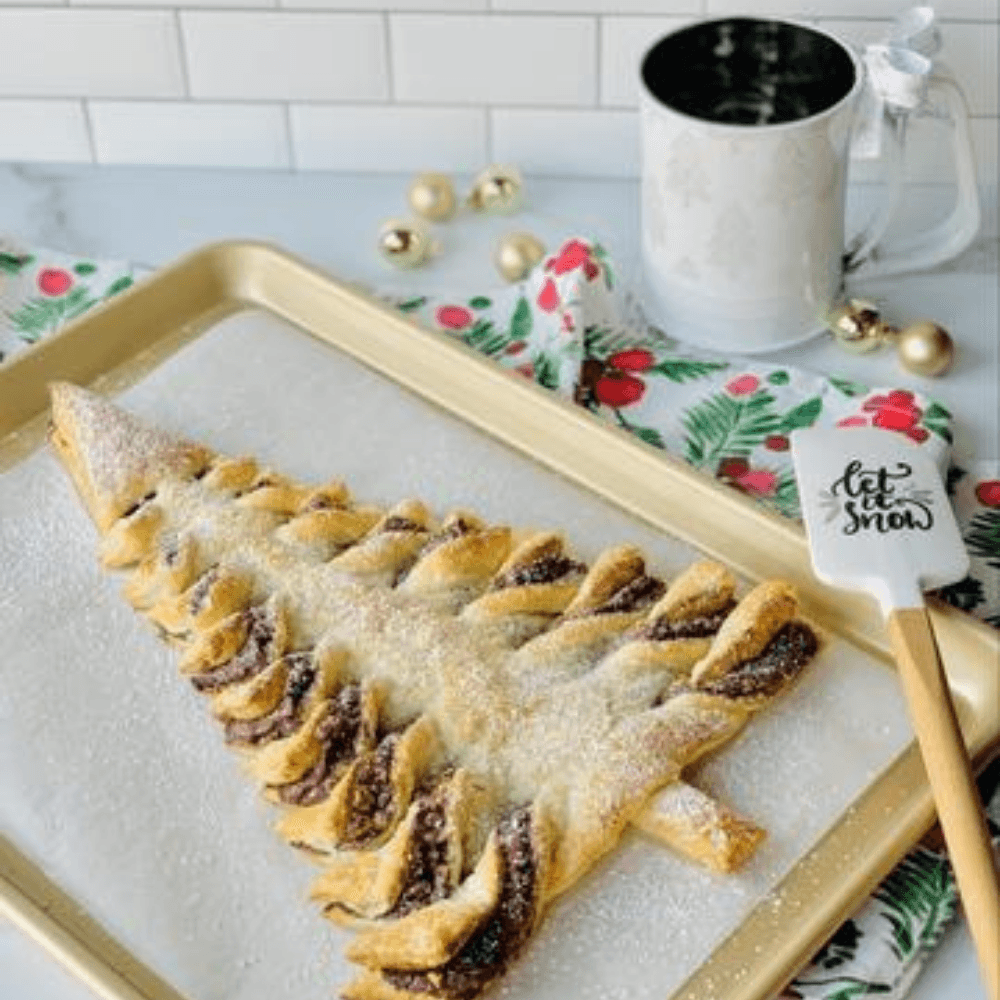 Our good friend Carly Merut (beautifulbitesbycarly) created this delicious and absolutely beautiful tree that is perfect for any holiday gathering (or just a wonderful treat for yourself!) It looks incredibly impressive yet only uses a few key ingredients (including our Karma Nuts cashews) so you'll be sure to wow any crowd! 
INGREDIENTS 
All-purpose flour, for dusting work surface

1 package frozen puff pastry, thawed

1/2 cup room temperature Hazelnut spread

3/4 cup Cinnamon @karmanuts 

1 egg + 1 tbsp water (egg wash) 

Powdered sugar, for dusting 
DIRECTIONS 
Preheat oven to 400°F. 

In a food processor, pulse @karmanuts cinnamon cashews until coarsely chopped  (set aside).

Flour your work surface and unfold one sheet of puff pastry.

Roll sheet into a 12x14-inch rectangle.

Using a pizza wheel, cut the rectangle into a triangle (tree shape). Transfer to parchment lined baking sheet. 

Cut a 3x1-inch rectangle from the scraps (tree trunk). Transfer the trunk to the baking sheet, and place it at the bottom of the triangle (tree)

Gently and evenly distribute hazelnut spread across the tree.

On top of the hazelnut spread, sprinkle @karmanuts cinnamon cashews.

Prepare second puff pastry sheet. Follow all previous steps, creating a second triangle (tree) -no trunk needed.

Place the second triangle on top of the first. Gently press the two layers together.

In a small bowl, whisk 1 egg with 1 tablespoon of water to make an eggwash. Brush the eggwash on top of the puff pastry.

Using pizza wheel, make mirrored cuts down the left and right sides of the triangle (tree), while leaving a 1-inch section down the middle. Twist the strips.

Bake puff pastry until golden brown (10 to 15 minutes.

Dust with powdered sugar (optional).