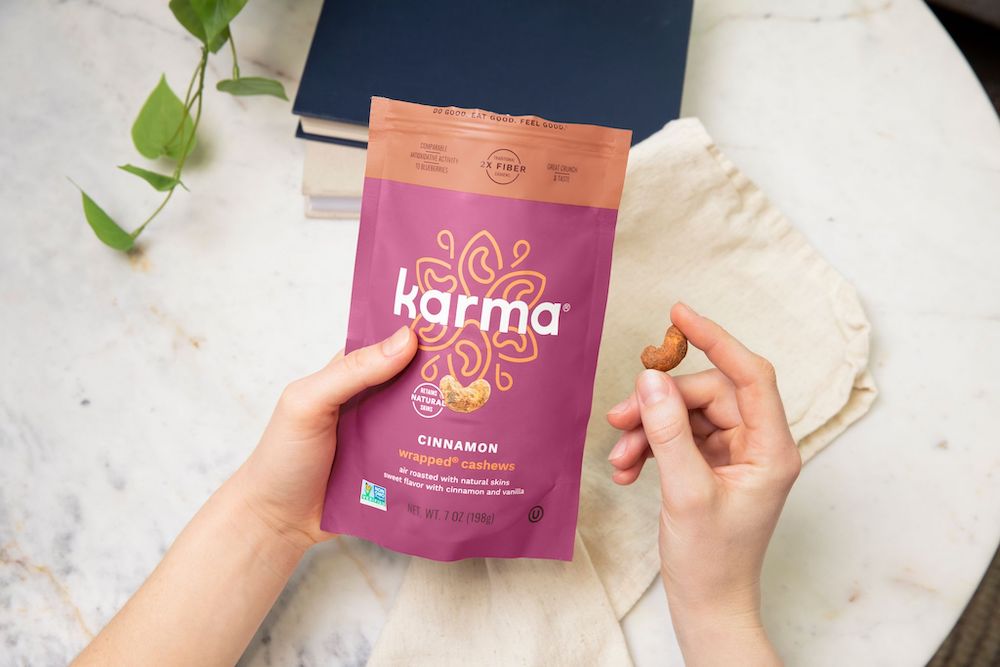 Cashews like you've never had before!
Delicious & nutritious, making them the perfect guilt-free snack!
✓ Air-roasted without oil
✓ Retains natural skin for 2x fiber, anti-oxidants & incredible crunch
✓ Ethical labor practices
⭐⭐⭐⭐⭐ 4200+ Reviews
"Cashews are my favorite nuts to snack on, but until recently, didn't realize that most readily available versions are deep-fried and over-processed. To that end, Karma Nuts are air-roasted with their natural skins intact. This unique cooking process results in better nutrition (more antioxidants and minerals), crunchier texture, and heartier flavor."
Sea Salt Wrapped® Cashews
⭐⭐⭐⭐⭐ 5 out of 5
Our Sea Salt Wrapped cashews include their natural skin. Keeping the skin on increases the crunch elevates the flavor and enhances the nutrition. Dusted with sea salt, it's a soul-satisfying experience.
Non-GMO
Gluten-Free
It's Wrapped
Air-Roasted
Plant-Based
Toasted Coconut Roasted Cashews
⭐⭐⭐⭐⭐ 4.96 out of 5
Air-roasted without oil. Supremely creamy. Unbelievably delicious. Karma takes cashews to a whole new level of being. With real toasted coconut and pure cane sugar, the taste is truly amazing.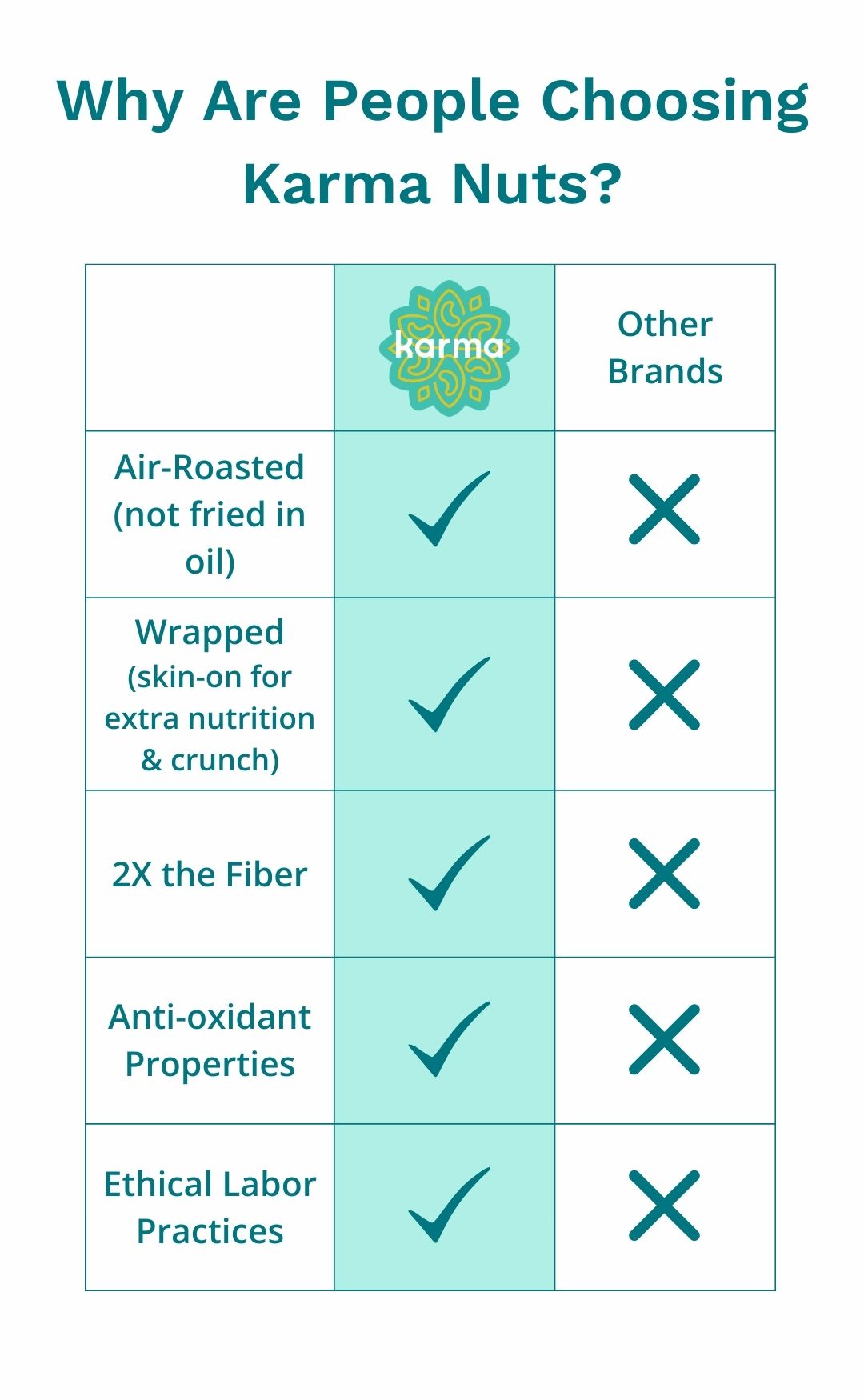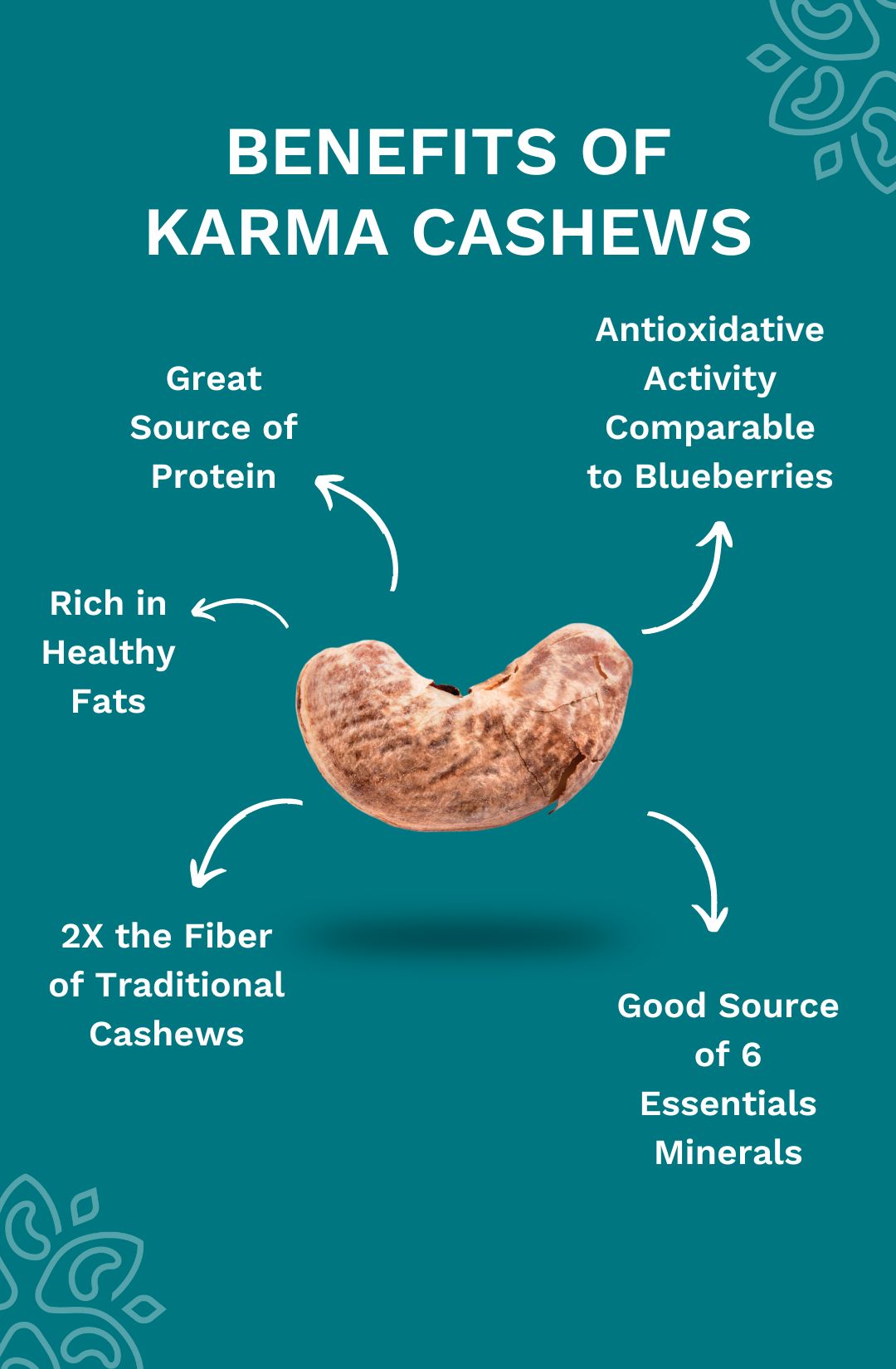 Find Your Favorite Flavor
Buy Now & Save 20%
Frequently asked questions
Our Wrapped® Cashews retain their natural skins, delivering 2x the fiber, antioxidant profile similar to that of blueberries, and an added crunch like none other.
While cashew shells can contain skin irritants and are inedible, Karma Nuts' proprietary process for developing our Wrapped ® cashews completely removes the toxic shell, retaining the inner skin. These cashews are then washed, soaked, and air-roasted to ensure their quality and safety, while retaining the significant nutrition (antioxidant and fiber) benefits contained in the skin. We test all of our cashews (Wrapped and Roasted) internally and with third party labs to verify their quality, nutrition, and safety.   
We know how important it is to understand any allergen cross-contamination that may be happening with your food. We process all of our products in a dedicated facility that only handles tree nuts (cashews and coconuts) so you/your family will not have any issues with the other top 7 allergens.
No, unlike most cashew products available in the market, all Karma cashews are air-roasted without oil, keeping them minimally processed and highly nutritious.
While not necessary, we do recommend refrigerating the cashews after opening.
All orders over $29 (after discounts) will ship for free in the contiguous United States. All orders that fall below $29 (after discounts) will be charged a flat fee of $5.95 per shipment.

Shipping is a flat $20 fee for all orders to Alaska and Hawaii.
Most shipments are sent via UPS or USPS, and will be generated within 48 hours of placing your order.